Stunning Panoramic Prints from your iPhone
Transform Your Memories into Masterpieces
Release those beautiful panoramic photos hidden on your iPhone and have them professionally printed to hang on your wall. Relive your special moments every day.
See Our Customers' iPhone prints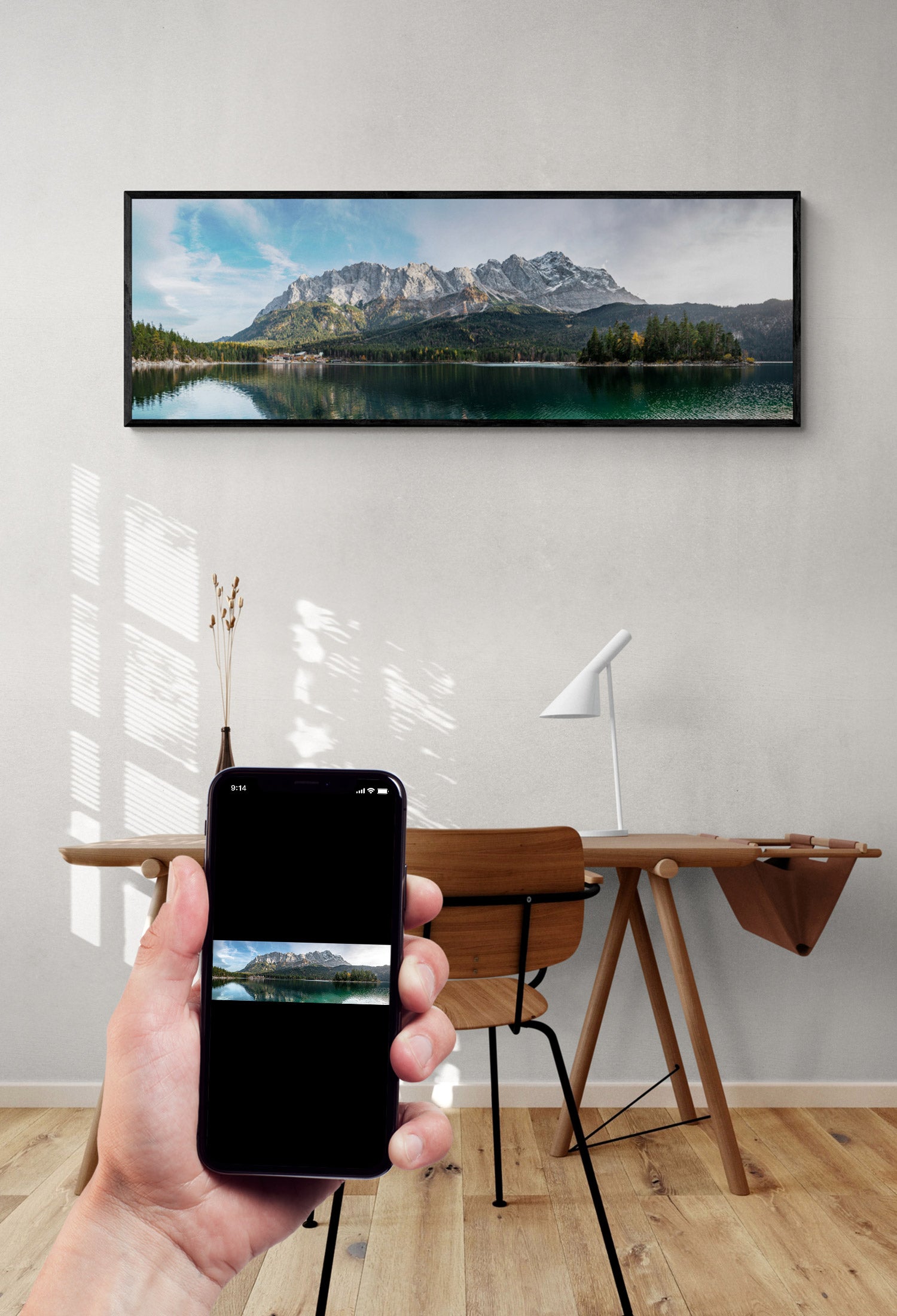 How to print iPhone photos
iPhone Panorama Prints
Our journey all started back in 2012 with the iPhone and our panoramic print sizes were originally optimised to suit the panoramas uploaded from this device - look out for our 'ultra' panoramic sizes which are usually best suited (depending on how far wide you went with your panoramic). We have since improved our offering to suit any panoramic printing from all devices.
Although the question remains...
 Will my panoramic photo from my iPhone really look great when its blown up to a 6ft wide canvas?
The answer is yes, absolutely! Trust us we have been doing it for years now and the camera technology in the latest smartphones is only getting better. Most modern day smartphones such as the iPhone have incredible cameras on them and along with our first rate printing equipment then we will be sure to turn your smartphone photography into works of art.
Step by step guide to taking a panoramic photo
How to take a panorama with an iPhone
Capturing a panoramic photo with your iPhone is a great way to capture a wide view or landscape. Here's a step-by-step guide on how to take a panoramic photo using your iPhone:
Open the Camera app on your iPhone and swipe left until you see the "Pano" option. This will activate the panoramic mode on your camera.
Position your phone so that the view you want to capture is centered in the frame. You'll see window where the scene is condensed alongside a white arrow on the screen, which indicates the starting point for your panoramic photo.
Tap the shutter button to start capturing your photo. As you pan your phone from left to right (or vice versa), the white arrow will move across the screen. Make sure to keep the white arrow on the guide line and within the boundaries of the screen as you pan, and keep a steady pace to avoid any gaps or distortion in your photo.
When you reach the end of the view you want to capture, release the shutter button. Your iPhone will automatically stitch the photos together to create your panoramic photo.
Review your panoramic photo to make sure it looks the way you want it to. If you need to adjust the crop or make any other edits, you can do so using the editing tools in the Photos app on your iPhone.
Once you're happy with your panoramic photo, save it to your camera roll and get it printed at Print Panoramics to display and enjoy on your walls.
With a little practice, you'll be able to capture stunning panoramic photos with your iPhone in no time. Happy shooting!
One
Find It
Seek out your inspiration. So many scenes look great on canvas or print - whether it is a beautiful sunset, city backdrop or maybe the whole family having fun on the beach. The possibilities are endless.
Two
Take It
Now you need to set up your iPhone camera to take the best panoramic image possible. To do this open the camera app, swipe over to the option that says Panorama and take your photo by following the on screen instructions.
Three
Hang It
Now it's time to print your awesome panorama photo with us and have it hanging on your wall in no time!
First visit the Shop Page, then choose your product, size and options. Then upload your image (direct from your iPhone if you wish), complete checkout and it will be delivered ready to hang. It's that easy :-)
Print iPhone photos
View our products
We offer two panoramic aspect ratios (Panoramic and Ultra Panoramic) and the difference is simply - that Ultra Panoramic is wider than Panoramic. You can upload your panoramic to a product on both aspect ratios if you are not sure which your image best suits. When you upload an image an image editor will appear showing you the print area. If it's too confusing or you are unsure simply start a live chat with us (pink icon bottom right of page) where you can upload your image for us to check and we will advise you on best aspect ratio and size for your image.
We also have non-panoramic for all of your standard size images that are not panoramic. If you don't see the size you are after then just let us know so we can look at a custom size for you.
Printed using an iPhone
Reviews from Iphone customers
Here is a selection of reviews from some of our customers who have taken images using their iPhone and had them printed with us.
Need help?
Frequently Asked Questions
Panorama photos taken with an iPhone can range in size depending on how long the panoramic photo is. To get the maximum size print for your image then simply start a live chat with us where we will check it for you and advise or use our online size calculator to determine the size of your image you can print with us.
Yes absolutely, providing you are using the original image direct from the device it was taken on. Sometimes your device may save a smaller image on your phone to save space on the devices hard drive, but the original will be backed up in your iCloud so you can get the full size version from there. If you are unsure, simply start a live chat with us and we will assist and check your image. Or you can follow our guide here to ensure you get the best possible results.
Yes, this is likely due to you going off centre a little when taking the panorama and not keeping the arrow on the guide line on the screen. Not to worry, we can easily fix this for you in 99% of cases. Simply let us know and send us the image so we can take a look for you.
Yes of course, we offer products and sizes for all size photos from panoramic through to standard size images. We can also cater for custom sizes if you can't find the size you are after on our website. For example if you are after a square print then just let us know and we can sort it all out for you.
Yes you can, it doesn't matter to us what device you have taken the image on. It could be an iPhone, an Android device, a tablet, a digital camera etc. We also print for some amazing photographers and galleries who use the very best cameras and equipment and you will receive exactly the same treatment. All we require is a digital file of your image.
Our photo prints come in a wide range of sizes to cater to your preferences. You can choose from as small as 12x8" non panoramic photo prints all the way up to very large 2 metre wide canvas prints. Additionally, we offer special aspect ratios that 'best fit' sizes tailored to the iPhone and most digital camera images. For example we offer an ultra panoramic aspect ratio that suits the majority of panoramic images taken with an iPhone and ensures that your photo is reproduced exactly as you captured it with your camera, without any cropping during the printing process. For specific size information and other useful details about our photo prints, please refer to the product details page. We also offer custom sizes, so if you don't find the size you are looking for and require a square print for example then we can sort that for you no problem - just start a live chat with us.
When purchasing from Print Panoramics, you can have complete confidence in your buying experience. We pride ourselves on printing all of our photo prints locally in the UK, using top-of-the-line technology. This not only ensures that you receive a high-quality product, but it also significantly reduces our carbon footprint by minimising the distance your prints have to travel to reach you. To add to your convenience, once we receive your print order, we prioritise processing it and will be typically shipped out in 3-5 working days. This means less waiting time for you and allows you to enjoy your cherished memories sooner. We understand the importance of protecting your precious photos during delivery. That's why we make sure all our prints are delivered in heavy duty packaging, ensuring your photos arrive in perfect condition. At Print Panoramics, we are committed to providing the best quality for your money from the very first print. In line with this commitment, we offer an exciting deal to new customers: up to 25% off plus free shipping upon registering with our website. We believe everyone loves a good deal, and we want to extend that happiness to you as you begin your journey with us. In summary, when you choose to buy from Print Panoramics, you can feel confident knowing that you will receive high-quality prints produced locally, with quick processing times, thoughtful packaging, and the best value for your money.