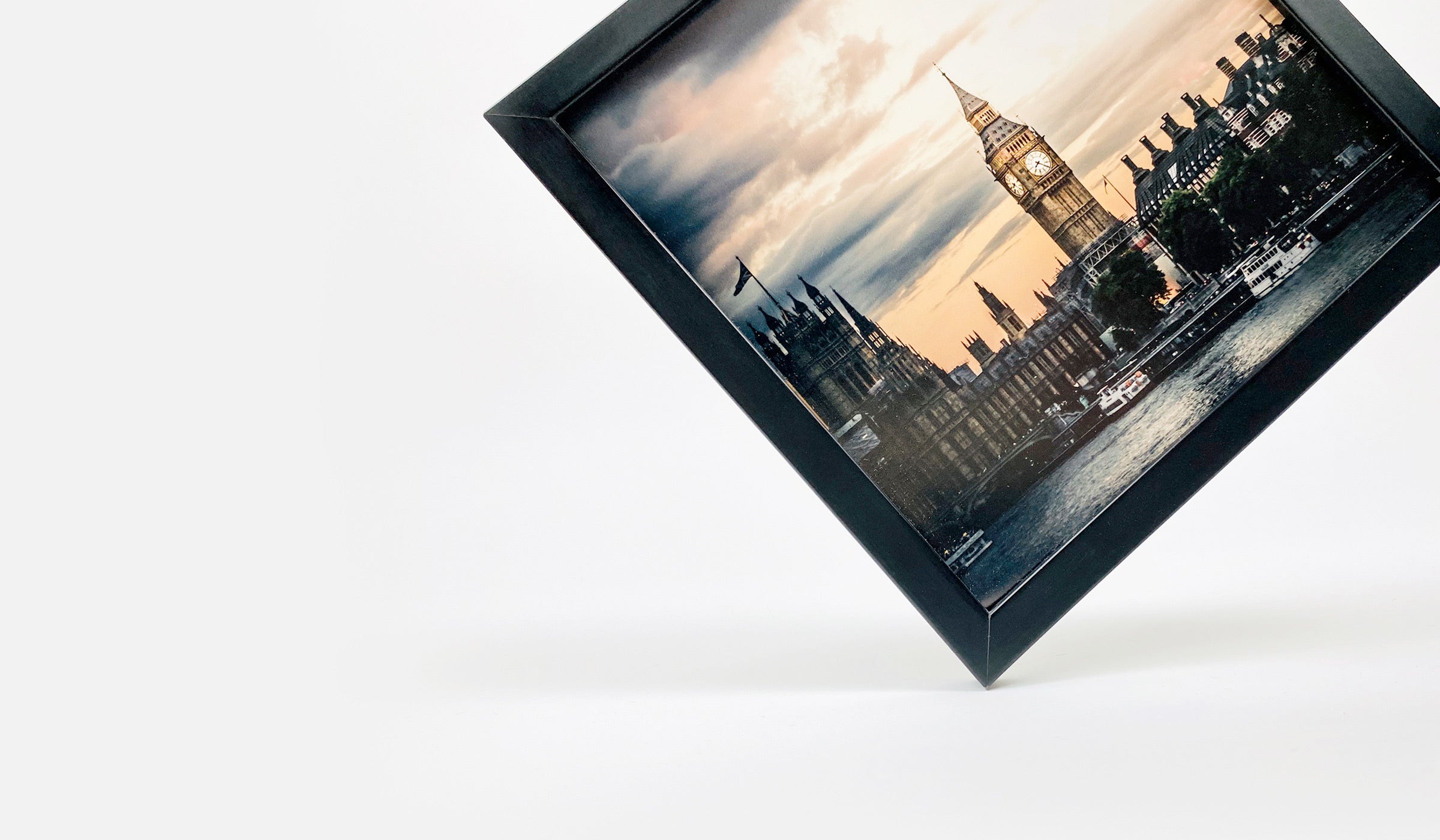 Hangtiles
Hangtiles are premium quality photo tiles and are available in your choice of white or black frames. With Hangtiles, you have the creative freedom to design your own stunning mosaic displays and transform your walls into a gallery of your memories.
Our UK-made photo tiles are pro-lab Giclée printed using the latest and best photo reproduction printers for exceptional print quality. The eco-friendly frames are made from recycled materials and are slim and lightweight with a print that has impressive colour depth and strikingly intense blacks.
Our specialist adhesive technology makes it easy to stick on and reposition the tiles, without leaving any marks or residue on your walls. Get ready to be amazed by the versatility and beauty of Hangtiles - order yours today and start creating your perfect wall art display!
Find out more about Hangtiles here 
Transform Your Space with Hangtiles - Photo Tiles
Welcome to our collection of Hangtiles - premium photo tiles designed to elevate your space with a touch of creativity and a dash of nostalgia. Whether you're looking to showcase cherished memories or design a stunning mosaic display, our Hangtiles offer the perfect blend of quality and versatility.
Unveiling Hangtiles - The Essence of Your Memories
Craftsmanship at its Finest: Indulge in the excellence of our UK-made photo tiles. Each Hangtile is pro-lab Giclée printed using state-of-the-art photo reproduction printers, ensuring exceptional print quality that brings your memories to life.
Eco-Friendly Frames: Make a statement with our eco-friendly frames crafted from recycled materials. Slim, lightweight, and available in white or black, these frames complement your photos while contributing to a sustainable environment.
Adhesive Innovation: Our specialist adhesive technology makes decorating a breeze. Stick on and reposition your tiles without worrying about marks or residue on your walls. Embrace the freedom to experiment with your displays.
The Hangtiles Experience
Size and Precision: Measuring at 8.5 x 8.5 inches (21.5 x 21.5cm), each photo tile is a canvas for your memories. The professional Giclée print delivers impressive colour depth and strikingly intense blacks, ensuring your photos stand out.
Minimalist Elegance: The lightweight frames add a touch of elegance without overwhelming your space. With a depth of just 2cm, they provide a sleek and minimalist backdrop for your memories.
Ready to Hang: Individually packed, boxed, and delivered to your door, our Hangtiles are ready to grace your walls. Enjoy the convenience of hassle-free hanging, thanks to our specialist adhesive hanger.
Your Creative Canvas
Endless Possibilities: Let your creativity flow as you design stunning photo walls with our removable Hangtiles. The adhesive hanger ensures easy repositioning, allowing you to experiment and create a display that reflects your unique style.
Share Your Creations: Don't forget to share your Hangtiles displays with us! We love seeing how our customers turn their spaces into personal galleries. Join our community of creators and inspire others with your imaginative designs.
Explore the Collection
Discover the beauty of Hangtiles - where quality, creativity, and memories converge. Order your photo tiles today and embark on a journey to transform your walls into a gallery of your most cherished moments.