Create a gallery wall full of your treasured memories!
Stick and re-stick again and again! No mess, no nails and no damage
What are Hangtiles?
Hangtiles are a new product that we at Print Panoramics have been working on for some time. They are a lightweight, premium framed product that can be hung on your walls with ease. We are so pleased to have achieved such a great product whilst ensuring that you always receive the same very high quality and service everyone has come to expect from us.

Choose the frame colour you are after and upload your image/s to our easy to use interactive designer.

Our expert and Guild recognised framers will get to work turning your memories into gallery quality art and ship them to you promptly.

Now you have delivery you can get to work on creating your own gallery wall. Simply peel and stick and re-stick until they are in the perfect position.
"Our obsession with quality is not healthy at times but it is so important to us that your special memories are showcased to the highest standard. Our Guild recognised framers will ensure your Hangtiles arrive with love."
Peel off the paper strip that covers the adhesive and simply stick anywhere on your wall.
The adhesive does not lose its stick and does not damage your walls, so you can move them around.
3. Not happy?... Move it back again
Move them around until your heart is content and until you have your memories in the perfect position. Safe in the knowledge there is no damage or mess left on your walls.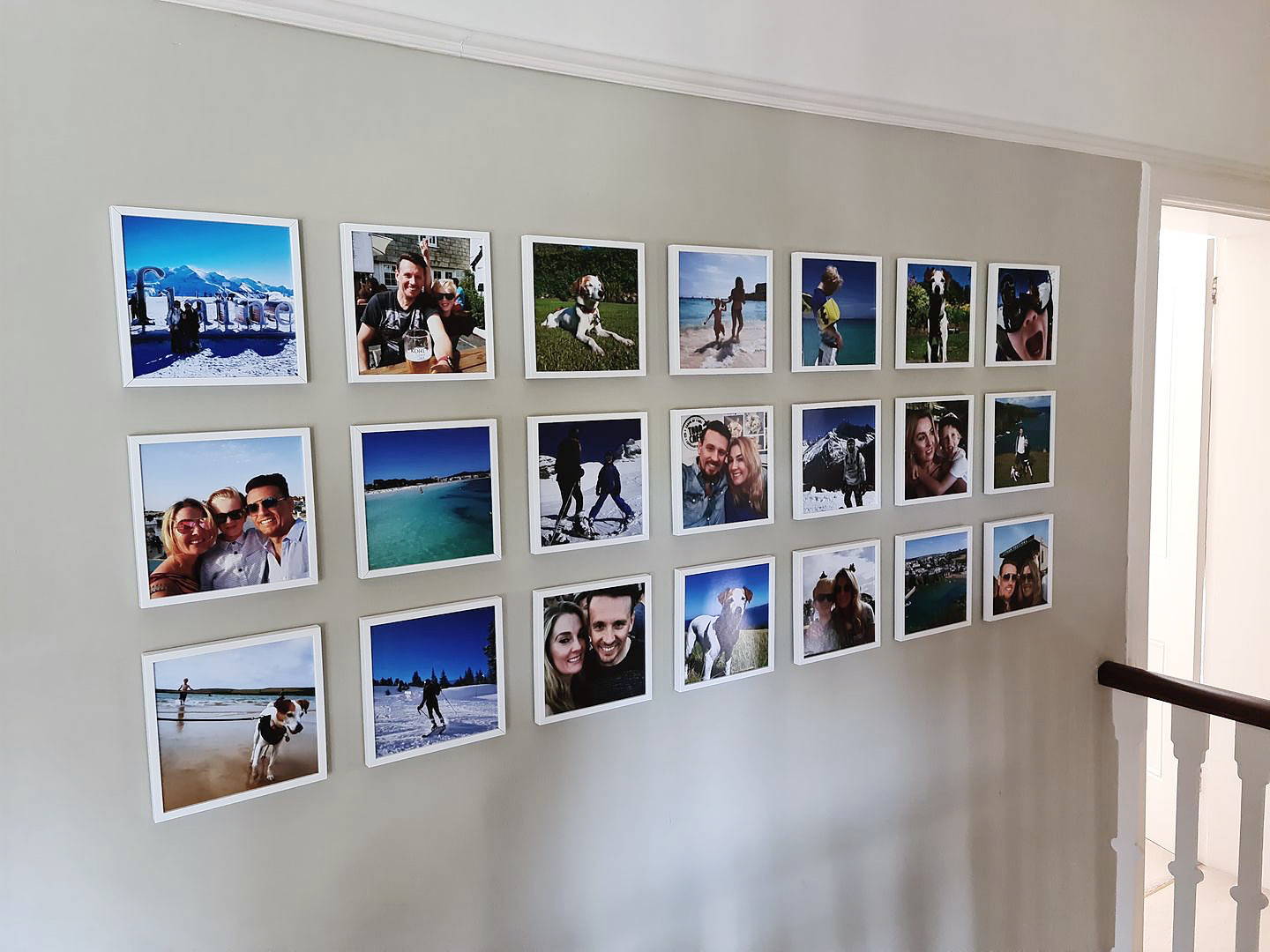 We received our order in around 6 working days and we're super happy with the quality of the frames and the prints. It's simple to remove the sticker to expose the adhesive strip and we moved a couple of the frames to get them into the right position. We'll definitely be ordering more, we just need some more great photos to do the Hangtiles justice!

The tiles are super clean looking and great quality. The adhesive on them is really kind to walls, I would know, as I tried the tiles in several places before I settled. Removing them is easy. Well done on a brilliant product.

Really lovely frames and prints. Work beautifully to make the black and white photos stand out. Plus incredibly easy to attach the wall and move about until they're just right.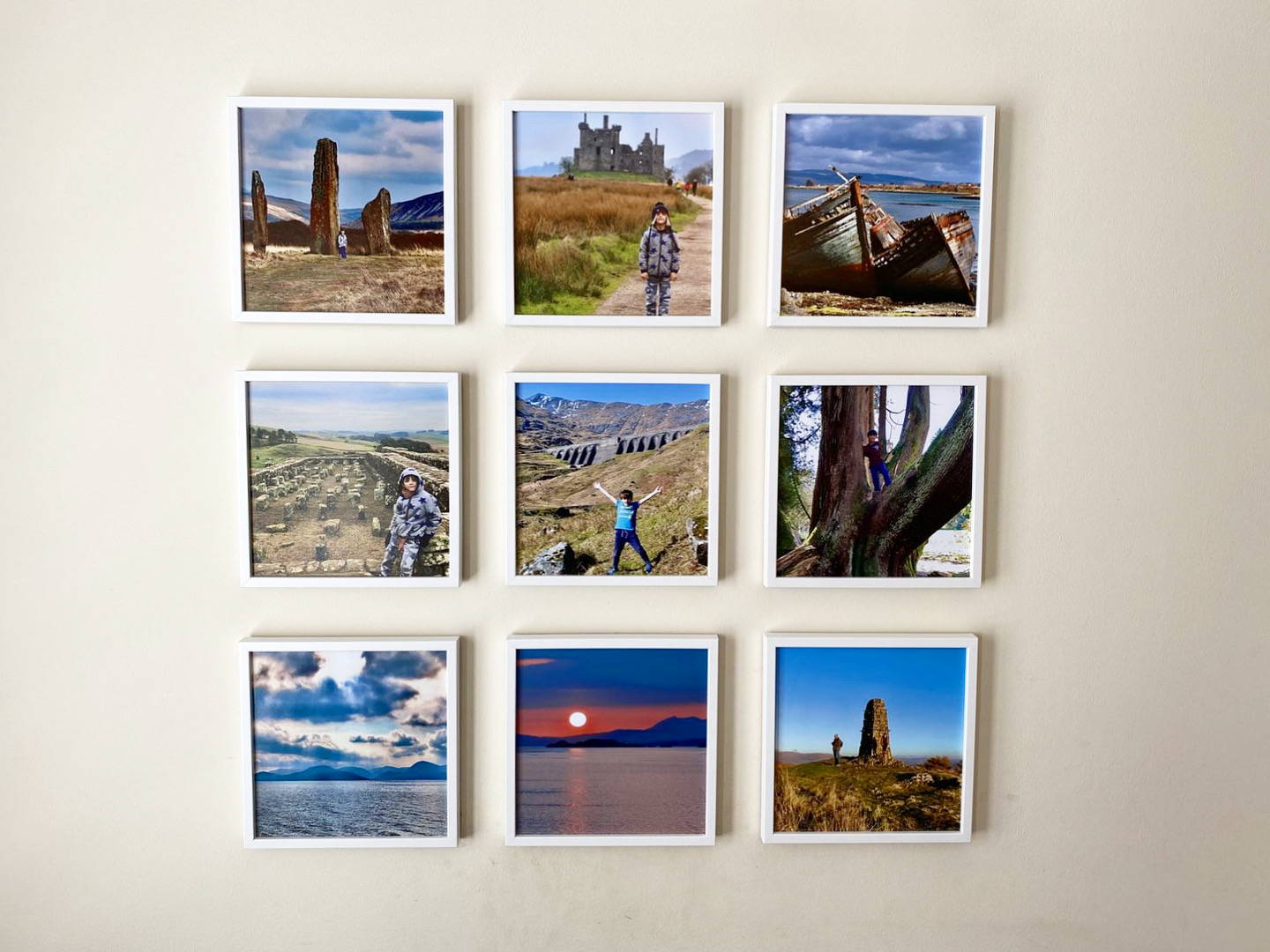 Really great product, image quality and easy to use! Just make sure you get your lines straight...
FAQ'S
How do they stick?
There is an adhesive strip on the back. Simply peel off the protective paper on this strip and then stick on your wall.
Will they damage my wall?
No the sticky strips are designed to leave no mess and no damage to your walls.
Can I move them after I have hung them?
Yes absolutely, they are designed for you to move around. If you hang them and feel you want to move then simply pull off the wall and move them to a different spot.
How big are Hangtiles?
They are printed onto an 8x8" (20x20cm) board and then with the frame added they measure in total about 9x9" (23x23). The depth is 2cm.
How do I upload my images and order?
Simply choose your product and number of Hangtiles you are after and then click the "customise" button. A visual editor will appear allowing you to easily upload your images. Once happy click "add to cart" and checkout to purchase.
Is there a minimum resolution I should follow as a guide?
Yes we recommend at least a 800x800ppi image to ensure the print is clear. Our visual editor will warn you if your image is too small to print.
Can I edit my photos?
Yes you can, our visual editor will allow you to add filters (over 50 filters), make them black & white etc. You can also adjust lighting and even add overlays.
Can I upload images from social media?
Yes you can, when you click to upload an image you will get the option of uploading from both Instagram and Facebook along with your device images.  
How long does delivery take?
We typically ship out in 3-5 days. For more information please see here