Photo tiles that stick & re-stick. No mess, no nails and no damage
Capture Memories, Create Art and Elevate Your Walls With Hangtiles
Your special memories have never looked so good with Hangtiles. An eco-friendly, slim and super lightweight frame made from recyclable material brings together a modern and minimalist look to improve your walls.
Hangtiles are UK made photo tiles that have been pro-lab printed onto a professional Giclée photographic print using the latest & best photo reproduction printers. They measure at 8.5 x 8.5" (21.5 x 21.5cm) and feature a specialist adhesive for easy stick on and take off, leaving no marks or residue. They're individually packed, boxed and delivered to your door ready to hang.
We can't wait to see your new walls filled with special memories..
£15 each - Create Yours Now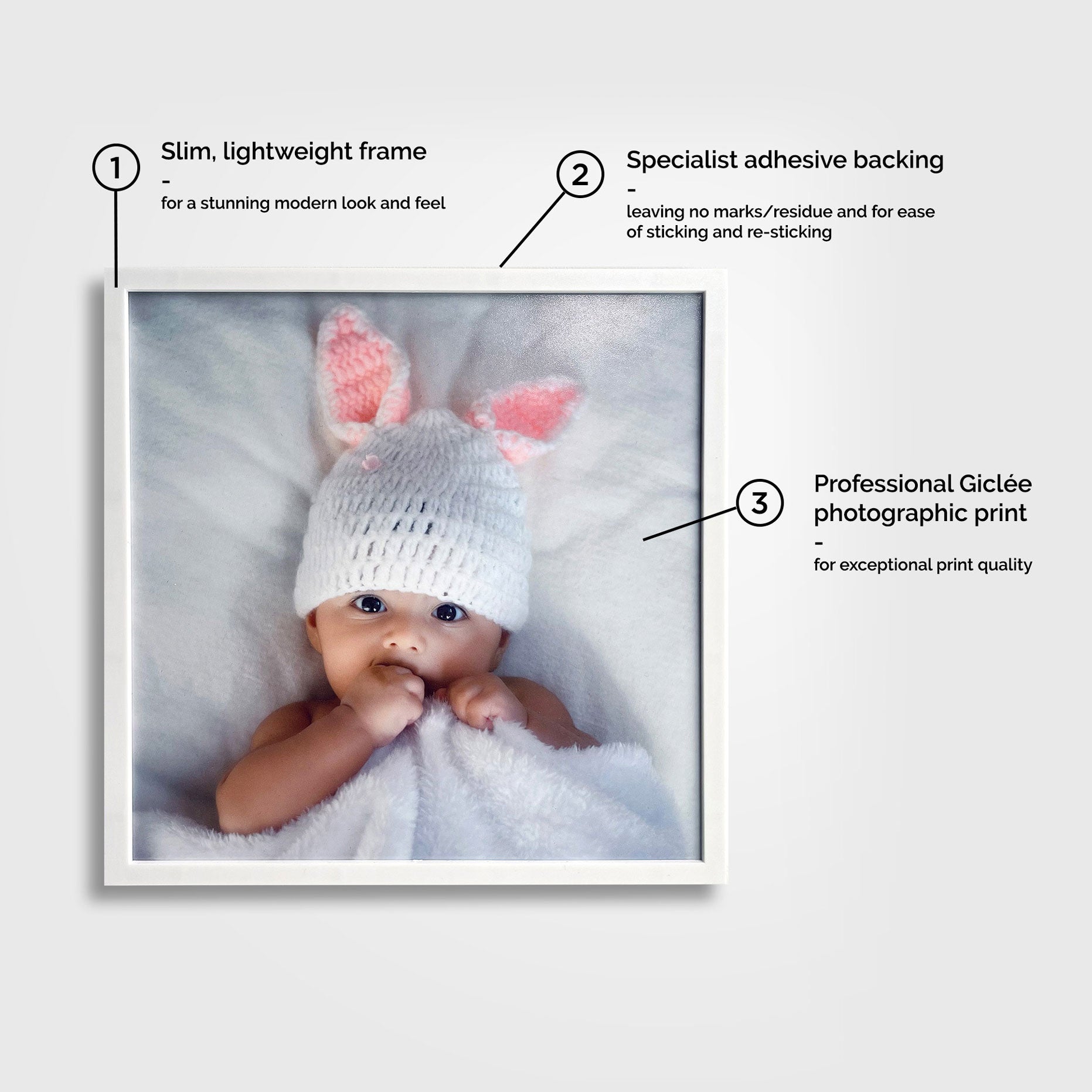 Lightweight & easy to hang
SLIM, lightweight eco-friendly frames
A lightweight and minimalist frame made from recyclable materials. Providing a sleek and modern look, perfect to create a stunning gallery wall.
Create Yours Now
Unbelievable detail
Professional Giclée PRINT
Our custom framed photo tiles are professionally Giclée printed using the very latest photo reproduction printing technology. This ensures exceptional print quality for stunning definition and colour clarity. You will not stop looking at your impressive memories.
Create your gallery wall
Easy stick... and re-stick
No Nails!
Our specialist adhesive backing leaves no marks or residue and allows you to stick your photo tiles again and again. No tools needed and no nails to go in the walls, which means zero damage 🙌
Design Yours Now
Get creative from your phone
It's in your hands
We all have a photo app full of amazing and meaningful memories, but it's a shame we hide these special moments behind a screen and in our phones. Now they can be displayed and enjoyed everyday with a smile to match with Hangtiles - photo tiles for your walls.
Design Yours Now
Hangtiles - easy to hang
How do photo tiles work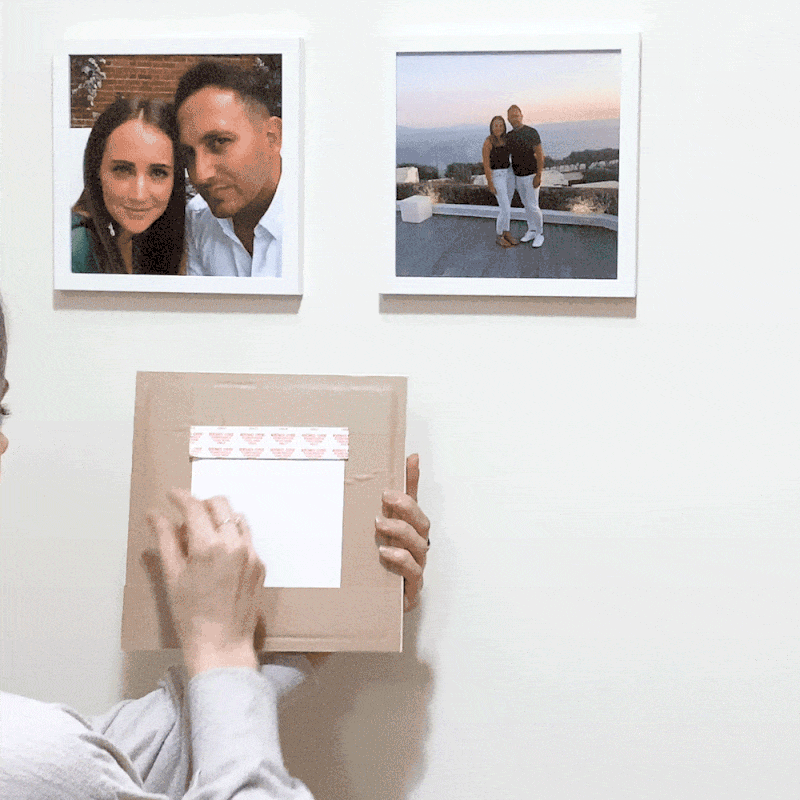 1. Peel & stick
Peel off the paper strip that covers the adhesive and simply stick the photo tile anywhere on your wall.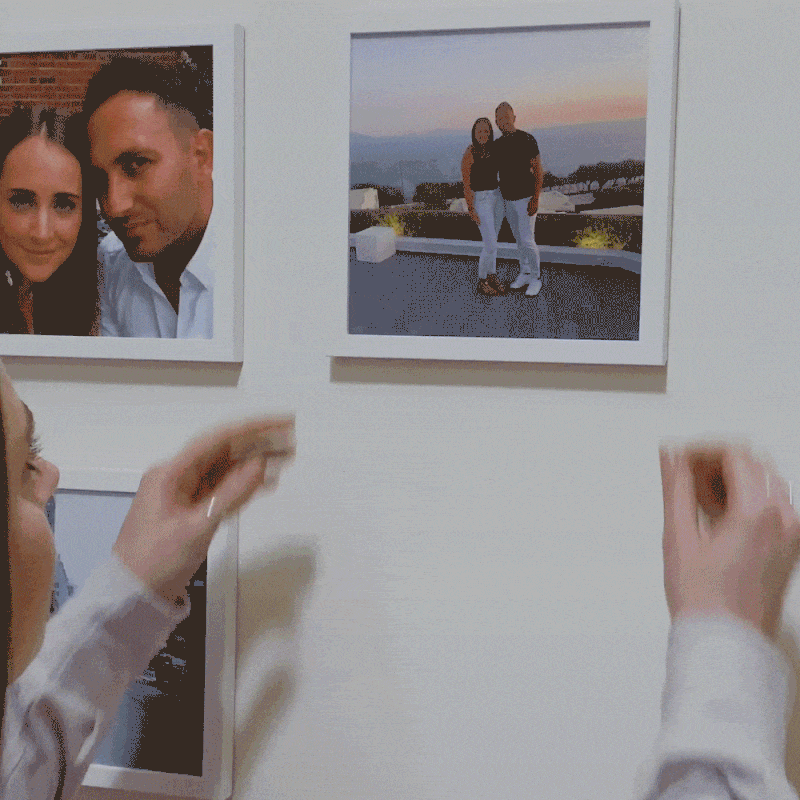 2. Move & re-stick
The adhesive does not lose its stick and does not damage your walls, so you can move them around.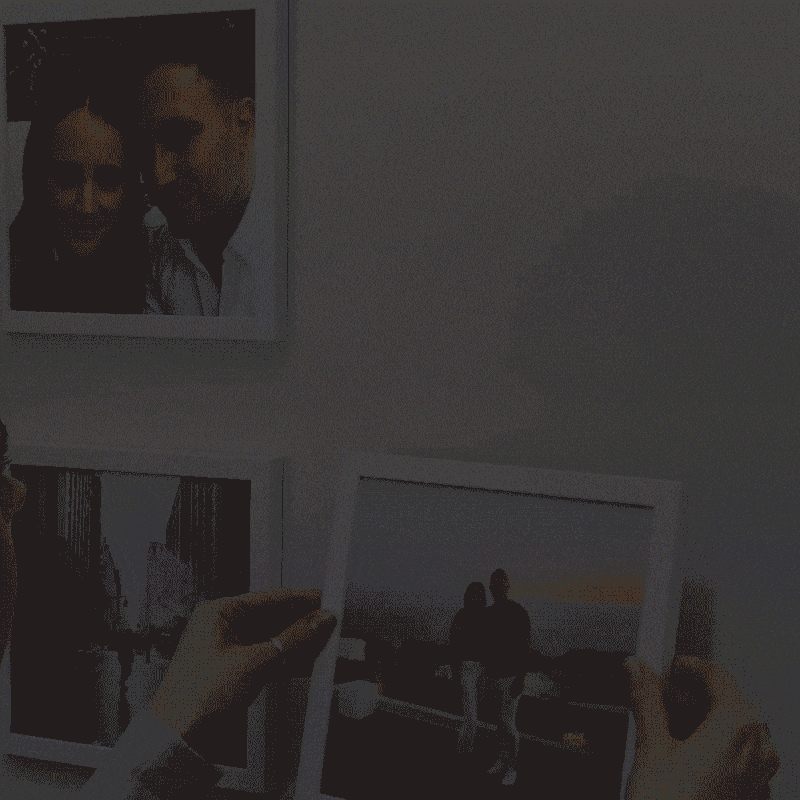 3. Not happy?... Move it back again
Move your photo tiles around until your heart is content and until you have your memories in the perfect position. Safe in the knowledge there is no damage or mess left on your walls.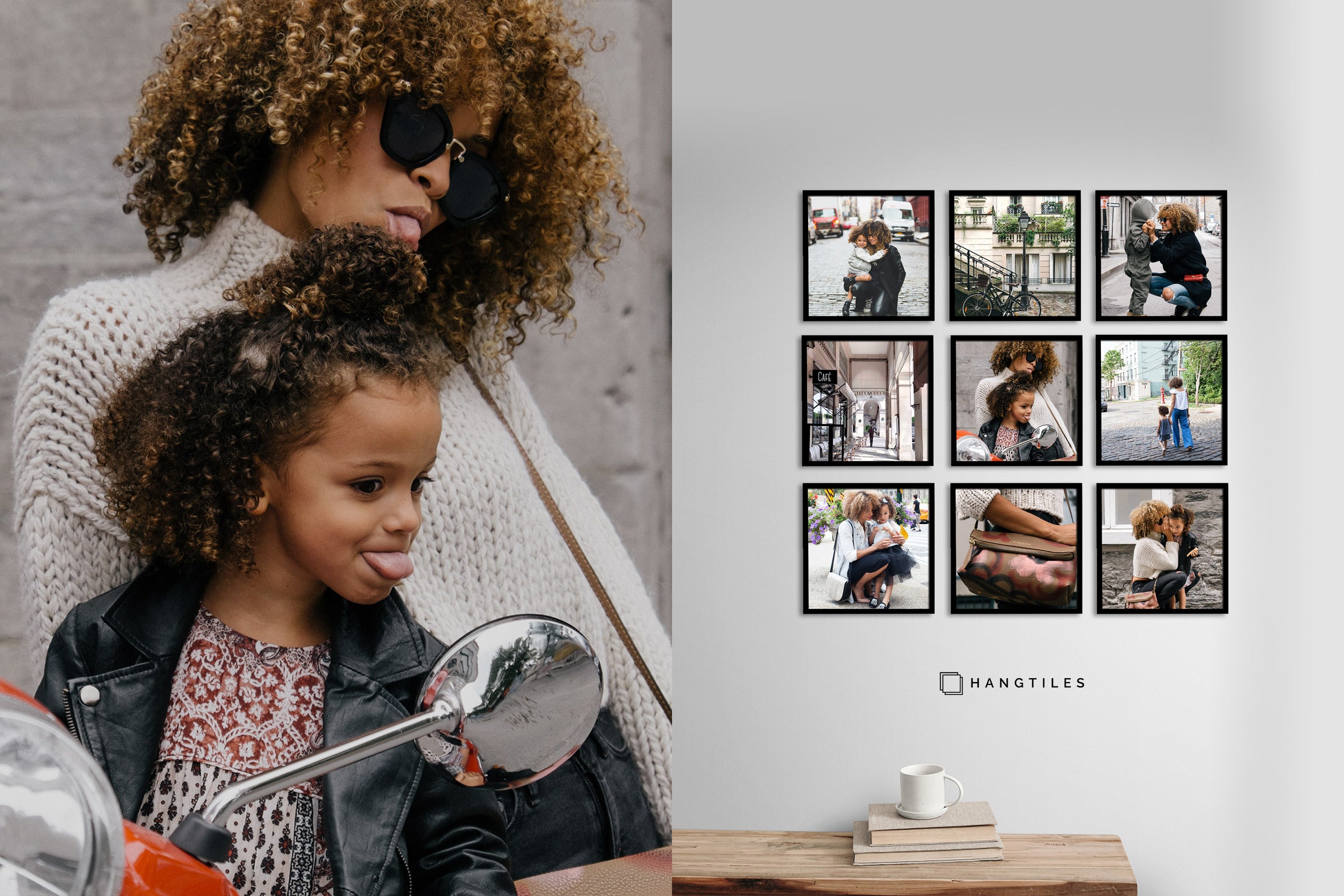 Hangtiles
Create a gallery wall full of your treasured memories with our photo tiles!
Customer reviews
Check out our customers' creations
Hangtiles
Frequently Asked Questions
There is an adhesive strip on the back. Simply peel off the protective paper on this strip and then stick on your wall.
No the sticky strips are designed to leave no mess and no damage to your walls.
Yes absolutely, they are designed for you to move around. If you hang them and feel you want to move then simply pull off the wall and move them to a different spot.
They are printed onto a professional Giclée photographic print at 8x8" (20cm x 20cm) and then with the frame added they measure in total about 8.5x8.5" (21.5 x 21.5cm). The depth of the frame from the wall is 2cm.
Simply choose your product and number of Hangtiles you are after and then click the "personalise" button. A visual editor will appear allowing you to easily upload your images. Once happy click "add to cart" and checkout to purchase.
Yes we recommend at least a 800x800ppi image to ensure the print is clear. Our visual editor will warn you if your image is too small to print. 
Yes you can, when you click to upload an image you will get the option of uploading from both Instagram and Facebook along with your device images.  
We typically ship out in 3-5 days. For more information please see here
You can upload and process images in the following file formats: .jpg, .jpeg, .png, and .webp.
The ordering process is incredibly quick, taking only a matter of minutes. All you have to do is easily upload your photos via our image editor, and there's no need for any login or app.
With an extensive clientele boasting thousands of delighted customers, we pride ourselves on our unparalleled expertise in the art of creating extraordinary photo gifts. Embrace a world of joy as our meticulously crafted photo tiles redefine the essence of cherished memories for you and your loved ones.

Elevating the standard of satisfaction, our unwavering commitment to excellence is encapsulated in our 100% Satisfaction Guarantee. Should your experience fall short of absolute delight, rest assured, we will tirelessly strive to surpass your expectations. We understand the profound significance of your photo memories, and it is our solemn pledge to ensure your complete contentment.

Our dedicated customer support team stands as an ever-ready ally, poised to address your every need. You'll find us ready to answer all your questions on the live chat and quash any hesitations before you commit to an order.

Step into the realm of Print Panoramics, where our mission is to forge emotional connections through bespoke photo gifts. Fueled by an unyielding commitment to constant refinement and innovation, we are dedicated to delivering a superlative standard of quality that befits the uniqueness of your most cherished moments. Trust us to provide you with products of unrivalled excellence, because you deserve nothing but the best.