Article: The complete guide to photo tiles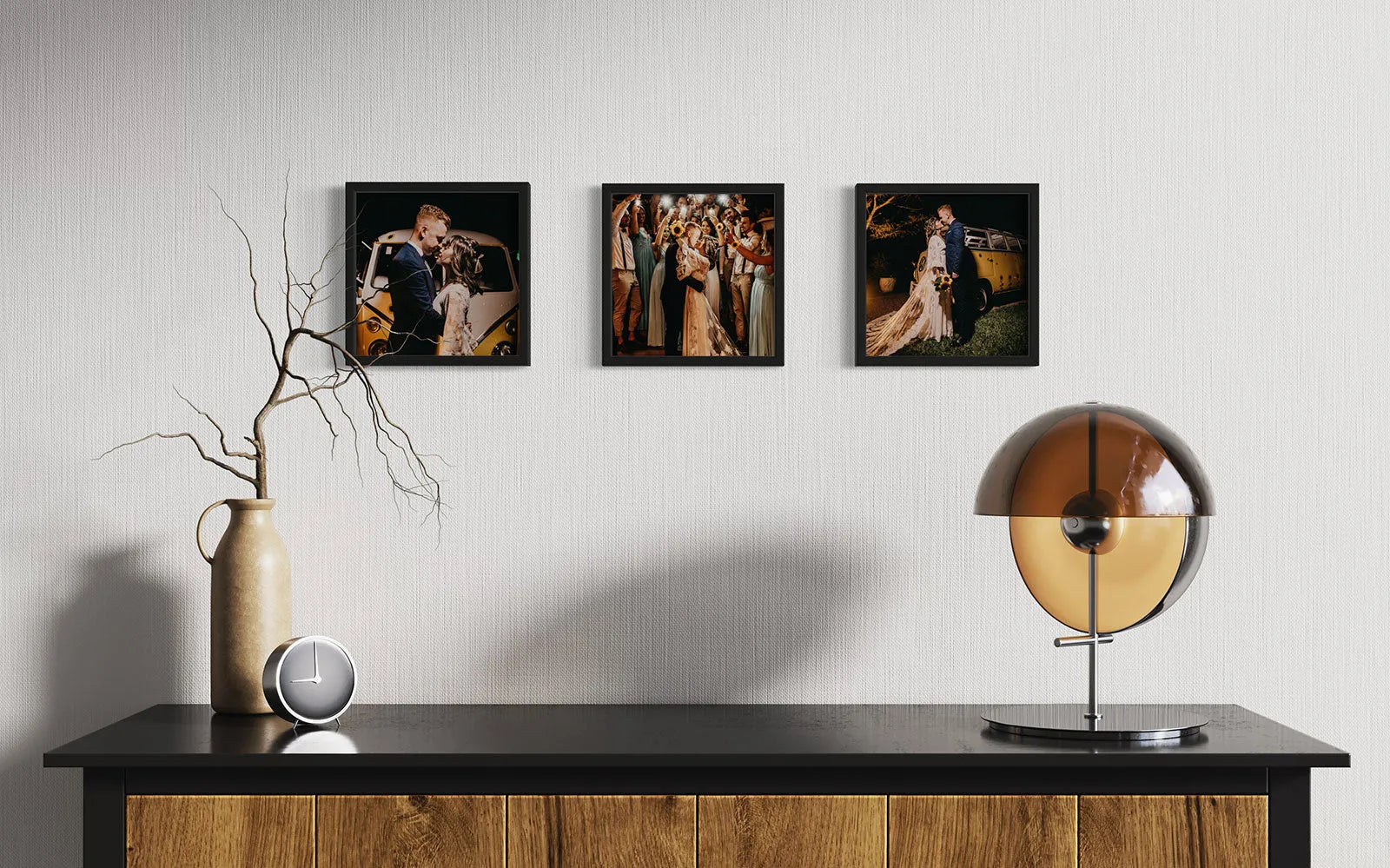 The complete guide to photo tiles
If you're looking to add a personal touch to your home decor, photo tiles are a fantastic option. These innovative products allow you to display your favourite memories in a unique and stylish way. In this complete guide, we will explore everything you need to know about photo tiles, from how they work to where to find the best ones. So, let's dive in and discover the world of photo tiles!
What Are Photo Tiles and How Do They Work?
Photo tiles are a modern way to showcase your photographs. They consist of a high-quality image printed on a sleek tile. Unlike traditional frames, photo tiles do not require any gluing or nailing. Instead, they use advanced adhesive strips that allow you to easily stick them to your wall. This means no marks or mess left behind and no need for nails in your walls. One popular brand that offers premium photo tiles is of course Print Panoramics, with our innovative product called Hangtiles.
When it comes to decorating your home, photo tiles have become a popular choice among photography enthusiasts and interior design enthusiasts alike. These sleek and stylish tiles not only display your cherished memories but also add a touch of elegance to any room.
Printed on high-quality materials, Hangtiles ensure that your images are vibrant and sharp, bringing your photos to life in a whole new way. Whether you want to showcase your stunning landscape shots, precious family moments, or artistic creations, photo tiles provide a unique and eye-catching way to display your favourite images.
But how exactly do photo tiles work? Well, it's quite simple. The adhesive strips on the back of the tile allow you to easily stick them to any smooth surface, such as walls, mirrors, or even tiles. This means you can create a personalised gallery wall without the need for hammers, nails, or any complicated installation process.
One of the key advantages of photo tiles is their versatility. Unlike traditional frames, photo tiles can be easily rearranged or moved around without damaging your walls. This makes them ideal for those who love to change their home decor frequently or for renters who want to add a personal touch to their space without making permanent changes.
Also, photo tiles make for wonderful conversation starters. Guests will be captivated by the stories behind your photos, sparking meaningful conversations and creating lasting memories.
When it comes to choosing the right photo tiles for your home, Print Panoramics' Hangtiles are a top choice. These premium photo tiles are not only easy to install but also come in a variety of frame colours, allowing you to create a customised display that perfectly fits your space.
Hangtiles are known for their exceptional print quality, ensuring that your photos look stunning and vibrant. The sleek design of these tiles adds a modern and sophisticated touch to any room, making them a great addition to your home decor.
Whether you want to create a gallery wall of your travel adventures, display your family portraits, or showcase your artistic photography, photo tiles offer a unique and stylish way to bring your images to life. With their easy installation process and versatility, they have quickly become a favourite choice among photography enthusiasts and interior design lovers alike.
Tips for Creating the Perfect Photo Tile Display
Now that you know the basics of photo tiles, let's discuss some tips for creating a stunning photo tile display. First and foremost, it's important to choose the right photos. Select images that hold sentimental value or evoke happy memories. Whether it's a snapshot from a family vacation, a candid moment with friends, or a breathtaking landscape, the key is to choose photos that bring a smile to your face every time you look at them.
Once you have selected your photos, it's time to consider the layout and arrangement of your photo tiles. You have the creative freedom to create a symmetrical pattern or opt for a more eclectic mix. Experiment with different sizes and orientations to add visual interest to your display. For example, you can mix and match Hangtiles with other framed prints, or even throw in a few panoramic prints for a dynamic effect.
When thinking about the space where you want to hang your photo tiles, the possibilities are endless. Photo tiles can be used to brighten up a plain wall, create a focal point in a room, or even form a gallery wall that tells a story. Imagine walking into a living room adorned with a carefully curated collection of photo tiles, each capturing a special moment in time. It's like having your own personal art gallery right at home.
But why limit yourself to just one room? Photo tiles can be a wonderful addition to any space in your home. Hang them in the hallway to create a visual journey through your memories, or display them in the bedroom for a cozy and personal touch. You can even create a photo tile display in your office or workspace, surrounding yourself with moments of inspiration and motivation.
Now that you have some ideas for creating the perfect photo tile display, it's time to get creative and start bringing your vision to life. Remember, the beauty of photo tiles lies in their versatility and ability to showcase your cherished memories. So go ahead, choose your photos, experiment with different arrangements, and let your creativity soar. The result will be a unique and meaningful display that brings joy and warmth to your home.
Which Photo Tiles Are Best?
When it comes to deciding on the best photo tiles, Print Panoramics' Hangtiles are definitely worth considering. They offer premium quality tiles that are durable and long-lasting. Their printing technology ensures vibrant colours and sharp details, bringing your photos to life. In addition, Hangtiles are designed to be easy to hang and remove, making them a hassle-free option for any home decor project. With their advanced adhesive strips, you can confidently stick them to any wall without worrying about damage.
Print Panoramics' Hangtiles are not only known for their exceptional quality, but they also offer a wide range of customisation options to pair perfectly with other products from the range. Whether you want to display a stunning framed landscape photograph or a cherished family portrait, Hangtiles can work nicely alongside to suit your preferences. You can choose from various products, sizes and orientations to perfectly fit your space and style. Moreover, Hangtiles are available in different frame colours, allowing you to create the desired effect for your photos.
One of the standout features of Hangtiles is their attention to detail. Each tile is meticulously crafted to ensure the highest level of precision. The edges are perfectly cut, resulting in a seamless and professional look once the tiles are in place. This attention to detail not only enhances the overall aesthetic appeal but also adds a touch of sophistication to your home decor.
Furthermore, Hangtiles are designed to withstand the test of time. The materials used in their construction are of the highest quality, ensuring that your photos remain vibrant and sharp for years to come with a professional Giclée print. Whether you hang them in a well-lit room or an area with limited natural light, you can trust that your Hangtiles will maintain their visual impact.
Print Panoramics understands that convenience is key when it comes to home decor. That's why they have made the installation process of Hangtiles incredibly simple. The advanced adhesive strips provided with each tile allow for easy and secure attachment to any wall surface. Whether you have painted walls, wallpaper, or even ceramic tiles, Hangtiles can be effortlessly applied without causing any damage.
Moreover, the removable nature of Hangtiles makes them an ideal choice for those who like to change their decor frequently. Whether you want to update your photo display or rearrange your wall art, Hangtiles can be easily removed without leaving any residue or marks behind. This flexibility allows you to experiment with different layouts and designs, giving you the freedom to express your creativity.
When it comes to customer satisfaction, Print Panoramics goes above and beyond. Offering excellent customer support, ensuring that any queries or concerns are promptly addressed. Whether you need assistance with choosing the right size or have questions about the installation process, their friendly and knowledgeable team is always ready to help.
In conclusion, if you're looking for the best photo tiles to showcase your cherished memories, Print Panoramics' Hangtiles are an excellent choice. With their exceptional quality, customisation options, attention to detail, and ease of installation, Hangtiles offer a seamless and hassle-free way to enhance your home decor. Trust Print Panoramics to bring your photos to life and transform your space into a gallery of beautiful memories.
What Is the Difference Between Photo Tiles and Frames?
While traditional photo frames have their charm, photo tiles offer a modern twist. The main difference lies in the display method. Photo frames typically require nails or hooks to hang. On the other hand, photo tiles like Hangtiles are lightweight and use adhesive strips for a seamless and clean look. Another advantage of photo tiles is their versatility. You can easily rearrange them and mix the frame colours whenever you want, without the need to dismantle frames or worry about broken glass. So, if you're looking for a more flexible and contemporary option, photo tiles are the way to go.
Can You Move Photo Tiles?
Yes, you can! One of the key benefits of photo tiles is their repositionable nature. If you ever decide to change the layout or move your photo tiles to a different wall, you can do so effortlessly. Simply peel them off the wall and reapply using the adhesive strips. This makes photo tiles a great choice for those who love to experiment with different arrangements or like to refresh their home decor every now and then.