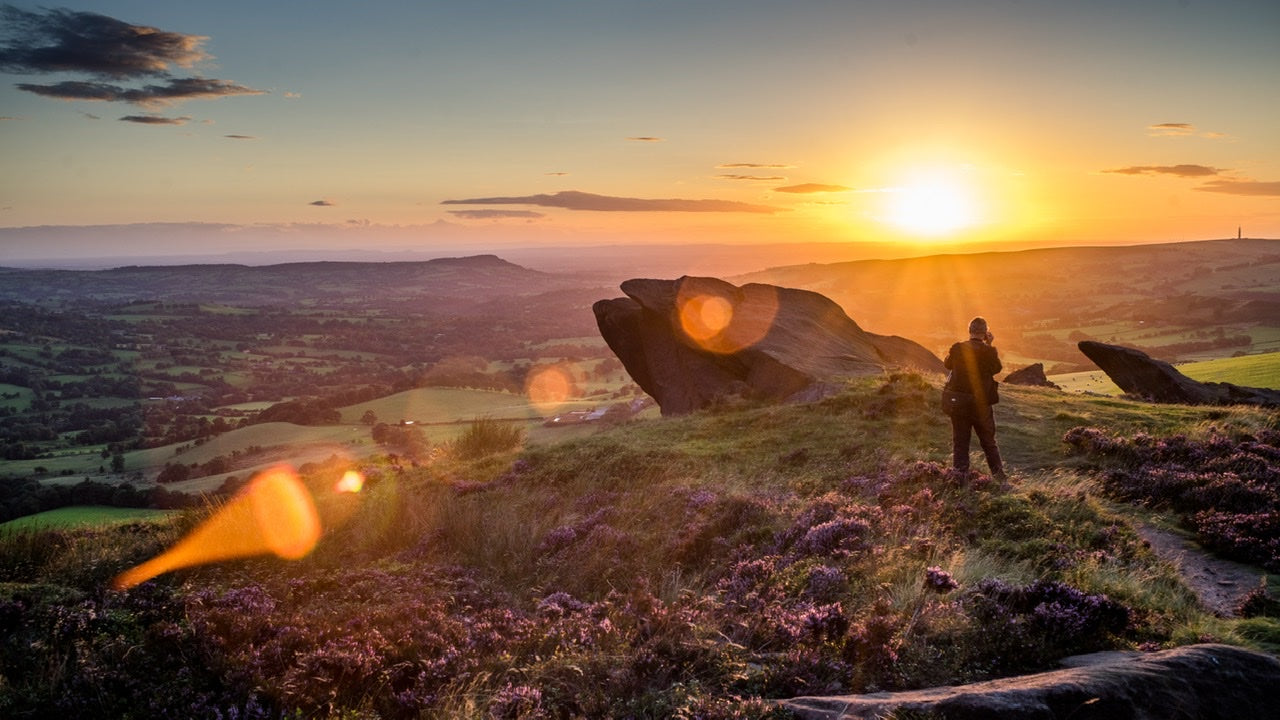 How to Print Panoramic Photos: A Guide for Stunning Wall Art
Taking panoramic photos on your phone takes more time than your typical photo — a good indicator that you've found yourself at a gorgeous location that needs to be remembered. However, all too often our panoramic photos get buried in our digital libraries, only to resurface when we're scrolling back in time. 
To truly make the most of your photos, print them! Read on to learn how to print panoramic photos easily and quickly so you can enjoy stunning wall art with a personal touch. 
Get Yourself Organized
When you're trying to find photos to print on your phone, it can quickly become overwhelming fast. The majority of users have hundreds if not thousands of digital photos hiding away in their albums. The good news is that smartphones provide pretty handy ways to organize your photos so that you can decide what you want to print, fast. 
iPhone
Open up your Photos app. Instead of scrolling through your Recents album, scroll a little further down and click on Places. If your GPS was on while you were taking your panorama photos, you'll find them here.
As you're looking at your photos, you'll notice a heart icon at the bottom of the screen that indicates the ability to favorite a photo. Favorite the ones that you're considering printing — they'll instantly be organized into their own Favorites album. 
Android
Open up the Gallery app. As you browse your recent photos, click on them in order to create your own Panorama Prints album. When you're ready to print, simply head over to that album and take a look at all your chosen photos for the final decision. 
Panoramic Print Options
You have a lot of options available to you when it comes to the material and size of your panoramic prints. They can be as small as 60 x 20 cm to as large as 150 x 50 cm.
A good way to find the right size is to make light pencil marks on the wall you plan to hang your panorama on. You can also use the image size calculator. 
As far as materials, here are some common options:
Floating Framed Canvas
Floating canvases create the illusion that your image is floating. This is because there is a traditional photo frame placed around the canvas. The 5mm gap between the finished canvas and the outside edge of your frame create the floating effect.
Why would you want a floating framed canvas? Imagine you have a panorama of clouds in a bright blue sky or a sunset over the ocean. The floating illusion brings back the feelings of awe and inspiration you felt as you captured the photo. 
Canvas Print
Canvas prints are a classic choice. The high-quality fine art canvas material is able to show off the original colors of your photo through 12-colour giclee printers.
Not only that, canvas prints are archival, meaning that they are guaranteed to last over 100 years. Your panorama photos will not only become eye-catching wall decorations but also memories that can be passed down in your family. 
Framed Print
If you don't like the look of canvas, framed prints are a great option. The paper used has a satin luster finish, meaning that colours will be rich and blacks will be rich and intense without the glare that glossy paper can cause.
Framing your prints will help with their longevity. Frames also add to the aesthetic appeal of prints, as they are made with high-quality wood that's able to match any kind of interior decor.
Aluminum Dibond Print
Do you have a more minimalist, modern style? Then Dibond prints may be the best choice for you. These are 3mm deep prints on a polythene core that's sandwiched between thin aluminum sheets. These prints come with a hidden frame behind your print. When you hang it, this gives the illusion that it's floating in front of your wall.
Acrylic Panel Print
Acrylic prints go the opposite direction of Dibond prints and provide the appearance of classic elegance. Your photographs will turn into works of art through rich color depth and 100-year fade-resistant material.
Acrylic prints are also just as easy to hang since each comes with an invisible subframe hanging system. They'll give the appearance of floating as they stand out 15mm from your wall. 
Upload Your Files
Once you choose the size and product, it's time to upload your panoramic photos. You can choose to upload your photos from your computer or your phone. If you'd like to use your computer to upload your photos, transferring your images to your phone is easy.
If you have an iPhone and an Apple computer, use AirDrop! Make sure both devices are on. Find the photo you want to transfer, then click on the Share button at the bottom left. You'll find an icon that says AirDrop. Once you click on it, you'll find a list of devices. 
If you don't have AirDrop, utilize services such as Google Photos or Dropbox to upload your photos. Not only does this make transferring easy, but you'll also be creating backups of your photos in case you ever lose or damage your device.
How to Print Panoramic Photos: Creating Eye-Catching Wall Art
Learning how to print panoramic photos is easy. After you do it once, creating more prints from your phone will be a breeze. Not only that but seeing your photos as tangible prints is far more impactful than on a small screen. You'll feel motivated to go out there and explore. 
Ready to create your masterpieces? Head over to our product page to start printing.